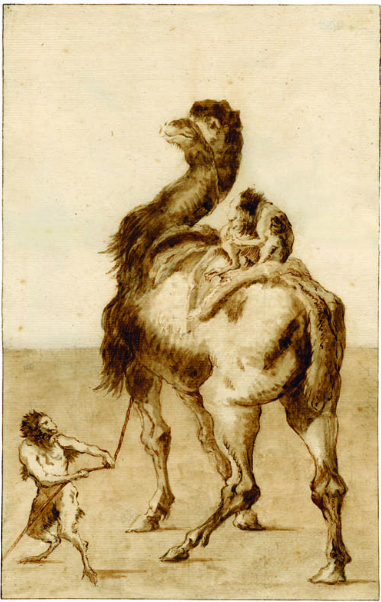 Pen and brown ink, grey wash
H. 27.2 cm; L. 17.4 cm
Signed "Dom.Tiepolo f" on the right
(vertically)
Giovanni Domenico Tiepolo's fondness for depicting animals is recurrent in his work, his finest accomplishment probably being the paintings above the doors in his villa at Zianigo, near Padua. (The main part of this decoration has been transferred to the Ca' Rezzonico museum.) His exotic animals (monkeys, dromedaries, ostriches, alligators, elephants and bears) were inspired by the engravings of Stefano della Bella and Johann Elias Ridinger, in combinations generally associating several species (like Bears and Monkeys in a Landscape, in J. Byam Shaw, The Drawings of Domenico Tiepolo, London, 1962, fig. 49, or Dancing bear and monkeys, in J. Byam Shaw, op. cit., fig. 64). These drawings generally date from the last part of Giovanni Domenico's career. The highly unusual blank background of the drawing here might suggest that it is unfinished, but this background is also found in the celebrated Ostrich, Stag and Boar's Head in the Lugt collection (see J. Byam Shaw, op. cit., fig. 45).